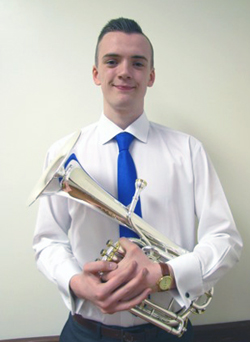 Jack Lythaby: Winner of the Margaret Rose Bursary 2017
Jack is the Solo Tenor Horn player in Lydbrook Band, a Championship section brass band based in the Forest of Dean. He is also a member of the National Youth Brass Band of Great Britain, currently holding one of the Solo Horn seats.
Once he has completed his A-level studies and DipABRSM, he aims to go on to study Musical Performance at University.
Jack says that music is important to him because, "It has brought me much pleasure and is something I wish to continue doing to the highest standard possible. It has taught me confidence, respect and how to communicate with people at all levels, skills that can be taken forward into any aspect of my future life."